The Final Delusion
The story is complete, released 2014-04-15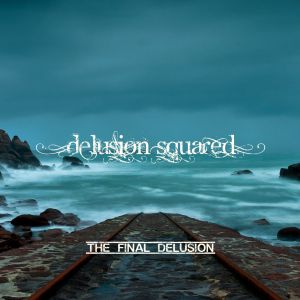 Ordeal
01 The Same River Thrice
02 Diaspora
03 Patient Zero
04 Reason of State
Awareness
05 Devil Inside
06 Last Day of Sun
07 Finally Free
Deliverance
08 Prisoner's Dilemma
09 Black Waters
10 By The Lake (Dying)
Surrender
11 Oblivion for My Sin
12 Persistence of Vision
13 Deus in Machina


TOP SECRET: DELUSION
DATE: 10/10/1969
EXPERIMENTAL RESEARCH PROJECT: DELUSION
PRELIMINARY SUCCESS REPORT: Experimentation Ref 103/Sub07/691001
BACKGROUND
Research project DELUSION, established 04/09/69 on the authority of
CENSORED
and specially funded after the accidental discovery by Professor
CENSORED
and Dr.
CENSORED
from University of
CENSORED
of the following:
1. Subjects exhibiting rare traits of sensitivity to future potentials by deviation from statistical norms; and
2. Additional chemical enhancement possible under controlled conditions.
A population-wide search for additional subjects under special order
CENSORED
gained access to 9 individuals (5 males and 4 females) with promising features. The DELUSION experimental protocol designed by Professor
CENSORED
was implemented on these 9 individuals under the authority of medical officer Captain
CENSORED
.
PRIMARY OBJECTIVE: Determine provable future military use.
SECONDARY OBJECTIVE: Successfully design optimum chemical enhancement while preserving overall health of the subjects.
Number of experiments as of 10/10/1969: 117;
Casualties: 3;
Reason for casualties: Toxicity of enhancement drugs-the most common negative result being inhibition to prescience neural state;
Cause: Unknown;
Conclusion: To date, extensive research has been completed towards chemical cause with considerable refinement of typical activation levels.
PRELIMINARY REPORT
Experiment Ref 103/Sub07/691001 conducted on subject 07 (female) after revision of protocol XX (enhancement compound M, batch nr 0023). After in depth review of past experiments, including detailed analysis of fatal cases, Professor
CENSORED
formulated the "double delusion" hypothesis:
Assumption: Subjects are somehow aware of their subjection to a prescience cognition experiment;
Assumption: Subjects' cognitive state induces non plausible, perverted prescience based on elements of the subject's past.
CONCLUSION: Experimental protocol to be adapted to assist inducement of delusional feelings of freedom after a simulated escape from the premises.
Experimentation Ref 103/Sub07/691001 conducted on most promising subject 07 (female) after tailoring escape delusion using significant elements extracted from subject history (salience of mother-child relationship, religious aspects, etc.).
CONCLUSION: Results beyond expectation with a strong prediction aimed at the Middle-East situation.
POTENTIAL APPLICATION: A clear focus on preliminary terrorist preparations targeting
CENSORED
assets in the
CENSORED
zone within
CENSORED
months.
FOLLOW UP/RECOMMENDATIONS:
1. Forecast assessment of prediction w.r.t. Operation Theater in
CENSORED
CENSORED
CENSORED
CENSORED
in cooperation with covert operative
CENSORED
. The detailed reports to be communicated to Captain
CENSORED
for extensive analysis;
2. Generalize protocol to remaining subjects. Secondary objective of reducing toxicity within next round of enhancement compounds to be maintained.
NOTE: Preliminary psychological assessment on subject 07 (female) tends towards irreversible dementia (due to multifocal neurodegeneration). Subject to be kept in perpetual sedation to induce soothing delusions.

01 - The Same River Thrice

instrumental




02 - Diaspora

A behemoth
Sleeping whale deep into the night
Encased in silence
Rushing beyond speed of light
I am the guardian
Watching over your destinies
A random mother
A singularity

In the sky, a million sails are flying to their destiny
Sowing stars, seeding life, spreading humanity

Deep in the redshift
Drowned in the fathomless well
Spreading giant wings
Revving up out of hell
I am the vessel
I am the keeper of souls
Aimed at the darkness
(I'm) escaping the shoals

In the sky, a million sails are flying to their destiny
Sowing stars, seeding life, spreading humanity

A gamma pulse
From outer space
Blinding as a curse
A random event coming to us

A flimsy thorn
Universe's scorn
All my fields are torn
I lose my hold on reality

Looming death
Burning my flesh
In the devil's breath
In the tidal embrace

(All) systems failed
In a blink of eye
Our fate unveiled
We're in the heart of the star

03 - Patient Zero

Ethereal tide
I'm floating deep inside
Blinded eyes opened wide
Contemplating another verity

Ethereal tide
No more pain since I died
But a prayer subsides
Oh to be relieved from the tyranny

Back from the dead
Frozen strings on my head
I'm lying on a bed
Surrounded by pulsing machinery

Motion around
My arms and feet are bound
(The) piercing light is a wound
The anguish is rising inside me

Recollection
Entire dejection
Another injection
My mind forced into (a) new reality

I'm still alive
Tough ones always survive
Said the Doc to the brass
The chief tormentor, without pity

I'm crying
I keep crying
Can't stop crying
Oh to get a grip on reality

A slave
I'm a slave
Abused with brain waves
Abducted, forever internee

I'm crying
I keep crying
I can't stop crying
Bewildered by fearful memories

I'm shaking
Can't help shaking
I am so wasted
By the needle's juices inside me

Pain
No more pain
No more pain oh please
Deliver me from this misery

The future
Bleeding future
I live the future
All the drug's induced visions of it

04 - Reason Of State

I remember her embrace
The sorrow behind a straight face
Her sobbing at night in the Moon's glow

I remember when we played
The spark in her eyes as she said
Honey I don't want you to ever grow

We were happy before they came
We were together, then they came
Darkness engulfing our sorry souls
(x2)

I remember the first day
The army men and my dismay
The turmoil in my mother's weeping eyes

Ripped away from her embrace
I remember the endless tests
The crispness of the drugs blurring her cries

We were happy before they came
We were together, then they came
Darkness engulfing our sorry souls

We were torn apart when they came
They tormented us with no shame
Reason of State enforcing its goals


05 - Devil Inside

On a virtual scape behind giant concrete walls
I am the blessed infant curled inside my belly
The sodden darkness is an everlasting thrall
My soul forsaken and forlorn, the source empty

Oh Lord, take me out of here (x2)

Between metal walls hung high up under the stars
I am destined for a quick annihilation
Distressed by the waves of the ferocious fires
Under the cumbersome stones of their treason

Oh Lord save me, take me out of here
Someone help me, please, oh let me go
I gotta get myself out of here
I have to flee now

06 - Last Day Of Sun

There's a light that never goes out
In the graveyard of all stars
Entrancing beyond any doubt
Makes me forget primordial scars

We are bred from the end of time
We are survivors on wire
Plagued by the visions in our minds
Tormented by the cold fire

Welcome the last day of sun
Now there's nowhere left to run

The confines of the Creation
Are a cunning frozen berth
We are trapped in back causation
We are giving up our flesh

At the mercy of (the) tormentor
The harasser of our souls
We are not human anymore
Crumbled under gravitic walls

Welcome the last day of sun
Now there's nowhere left to run

But what if we could flee
From the endless cruelty
Withering the life from each one
Under the sun

But there is nowhere left to run
There is nowhere left to run
There is nowhere left to run
There is nowhere

07 - Finally Free

A choking life
In a filthy, crowded berth
Ending with my death

Then I'm alone
On a desiccated Earth
Burning my flesh

Another kind of
Tragedy
In every new future

All that lingers
Is the endless suffering
I must endure

Another day
And another poison
Infects my sorry blood

I brace myself
For the dreaded submersion
Wait for the flood

What kind of future
Will I bear
What torment will I spread

Only this time
There is something different
I'm inside my head

Free
There is a true way out
An end to the fallacy
I do not want to die, I just want to get
Free
There is a dangerous way
I'll endure it, I'm ready
I will dare anything until I'm finally free

I am aware
Even though I have hints
Of a wicked future

A distant fate
Unfolds in spite of me
No more a torture

I am aware
And realize
There's nobody around

All that remains
Is to jump out of the couch
And I will be gone

08 - Prisoner's Dilemma

Death by a million thousand cuts
Is your religion
Is your religion

You retain me but I have no doubt
I keep crawling down
I keep crawling down

Ou-ou-ou I leave you now
Ou-ou-ou I leave you now

Your blatant lies whispered in my ear
No more a prison
No more a prison

You enclose me but I have no fear
Just an illusion
Just an illusion

Now you're furious that I'm defecting
Looking everywhere
You scent my despair

You're close to me but I keep hiding
Til the night is there
Then I'll get away

(Forcing my exhausted body
Out of your insanity)
Ou-ou-ou I leave you now

(Forcing my exhausted body
Out of your insanity)
Ou-ou-ou I leave you now

Lurking in the shadows I can feel
The tremors of terror I conceal
Now I cannot longer hear you shout
Just a few more paces and I'm out

...and I'm out


09 - Black Waters

Bound in the haze of the craving
I stumble on a chancy path
The rubble I leave for the taking
Like a discarded photograph

I don't understand what I'm missing
Is it worship in her eyes
Is it my life dismantling
Or the poisonous lies

Overflowing sorrow
I will meet tomorrow
The black waters of my past

Down in the valley of suspicion
Black waters lie under the moon
Shorelines a dullness of abandon
In my weakness I'll get there soon

The dust where I had been found
The solace I was denied
The vacuity so profound
The merciless tides of time

Overflowing sorrow
I will meet tomorrow
The black waters of my past

Overflowing sorrow
I will meet tomorrow
The black waters of my past

10 - By The Lake (Dying)

Washed ashore by the slow waves
Languishing bites soothing me
I welcome the reality
I am, eventually

Bleeding tears are little graves
Stowing away memories
All my regrets are leaving me
No more acrimony

Feeling deep inside my bones
The frozen kiss of destiny
The real true end of fallacy
I wait in harmony

In the caress of the stones
Gravel kneading my body
I can now glimpse eternity
Which closes down on me

11 - Oblivion For My Sin

From the unspeakable nothing
I feel a chilling fire
A new vision engulfing
My shaky sanity

They say I'm a traitor
Covering up my daughter
That she's gonna murder
In the name of fallacy

Devastated to lose her
For the saving of my kind
For the preservation
Of the truth we believe in

I'll never betray her
Better lose my mind
I wish for oblivion
For my sin

(Wizened crone we need to get through)
(We're gonna beat the words out of you)

(Foolish one don't you figure out)
(It is the World's fate you mess about)

My veil is gone and I'm shaking
Under their powerful stare
I know they are on the
Verge of breaking me

I am scared but I will
Never tell them what I guess
They may as well keep me
Forever in prison here

Devastated to lose her
For the saving of my kind
For the preservation
Of the truth we believe in

I'll never betray her
Better lose my mind
I wish for oblivion
For my sin

12 - Persistence Of Vision

instrumental




13 - Deus In Machina

There are seven armored men advancing
And the wind
Blows the dust away

My wait is over, my prayers answered
I will be with him
Forever he will stay

At last today will be my wedding day

I am a lady of the highest rank
We will rule
Over the country

My beloved one has come back
So we unite our souls
Everyone, be merry

Under the rainbow-tainted rains we kiss
Tenderly
The moment is peerless

I am a little girl playing
In the arcology
And the game is "princess"

Everything else is delusion

At last some happiness
I wish that it never ends
Eventually a princess
I wish that it never ends

I have buried awful monsters
I'll never awaken
I have fled from the black waters
My true life has begun